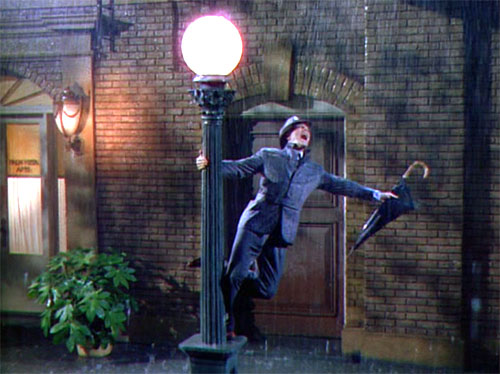 The BFI screening of
Singin' in the Rain
the other night had an unexpected bonus: director Terence Davies (
Distant Voices, Still Lives
) gave a brief intoduction to the film, having selected it as part of a series shown in collaboration with the National Film and TV School.
With charm and enthusiasm, he revealed it was the first film he ever went to see, and that he still loves it so much he finds it difficult to talk about it without becoming emotional.
When you think of
Singin' in the Rain
, the screenplay probably isn't the first thing that comes to mind. However, a quick look at the origin of the film reveals a couple of useful lessons about making the most of unpromising source material and using 'creative limitations' to help you make the right choices.
In 1950, producer and songwriter Arthur Freed hired Betty Comden and Adolph Green to write a screenplay that would showcase a number of songs from the 20s and 30s to which he owned the rights.
However, having to accomodate what were already fairly outdated songs wasn't the only problem they faced. They had to come up with a spectacular set-piece conclusion to match that of Gene Kelly's previous film,
An American in Paris
, and work round the fact that Debbie Reynolds, the rising starlet foisted upon the film by MGM, wasn't a very experienced dancer.
However, Thomas Pope, in his analysis of the film in
Good Scripts, Bad Scripts
, summarised the way in which the writers turned the situation around:
"The limitations imposed upon Comden and Green were problems that liberated the writers from easy choices and forced decisions upon them that made for a more complex and sophisticated film."

By setting the film at the time the songs were written, they were able to craft a story about the moment the film industry made its difficult transition from silent films to the 'talkies'.
Meanwhile, they got around Reynolds' inexperience by introducing a more capable dancing partner for Gene Kelly; they created the role of Cosmo (Donald O'Connor), a best friend who could match Kelly's athleticism.
Neil Gaiman made a similar point about 'creative limitations' at the Edinburgh Book Festival last month, saying that if you're commissioned to write an eight-page horror story set in a public toilet in Sheffield, it's easier than being given a total
carte blanche
.
It may be a bit counterintuitive, but it seems that constraints and boundaries tend to inspire creativity rather than inhibit it. I guess if you're having trouble staring at the blank page, come up with a few parameters of your own to focus your imagination.
(Pope also provides a more detailed analysis of the script's structure, particularly how the first act of
Singin' in the Rain
continually introduces new problems or amplifies a problem that had already been introduced.)
PS. While talking about the choices Comden and Green made, Pope makes another more general observation that I can't resist quoting:
"There are damned few ideas that can't sound good after a few hours of being trapped in a room, trying to come up with a story. The very act of collaborative creation is a desperate, often atavistic fight, where the muse tries to make the writer choose bad ideas and his only defence is his professional shit detector."
Analysis/detailed summary of
Singin' in the Rain (Filmsite)